Weight loss in 7 days
[ » Destinations » Wellness & Spa & Health ]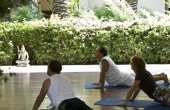 Print
Detox - Losing Weight - Wellbeing - Wellness - Spa - Relaxation -


In cooperation with The Life Co Bodrum


Feel Like You've Been Born Again with our Weight Loss Program!


If the first thing you think of when you wake up in the morning and look at your waist line in the mirror is how you want to start a new diet – stop!


Feel Like You've Been Born Again with our Weight Loss Program, and say goodbye to extra weight while getting rid of toxins and creating a brand new livelier you!

Summer is here but you still haven't gotten rid of your excess weight
You feel like you're lagging behind
The heat is still making you feel lethargic, you have no energy
You haven't been able to take a break from summer celebrations
Cleanse your soul, give your mind a rest and rescue your body from this heaviness; renew, revitalize and get your energy back.


What's included in the program?


Our program directors will create an individualized 14-day program for you that will make you feel completely renewed. During your stay you will drink vegetable and fruit juices to help your body cleanse and keep you from feeling hungry, eat organic green salads, relax and stretch with meditation and yoga, sweat in our sauna and steam bath, rejuvenate with various therapies (skin care, massage, Vitamin C) and cleanse your colon and get rid of years of toxic build-up. We will also provide you education and information on how to apply everything you've learned to your life once you return home.


The final results depend on weight, age, height, metabolism and genetics, but women lose approximately 4-9 kg while men lose about 6-12 kg on this program.


The essential thing is to clear 14 days in your schedule to give yourself a short break from your normal busy pace of life and come to our center in Bodrum, located among Türkbükü's mandarin trees. You and only you – the most important person in the world – can decide to set aside this time.


For more information about the program and reservations: info@ibe-travel-.eu


Morning Afternoon
08:00-20:00 Colema 14:00 Shake
08:00 Shake 14:00-15:30 Yoga
09:30 Herbs 15:30 Herbs
09:30-11:00 Yoga 15:45–17:00 Meditation
11:00 Shake 17:00 Shake
11:30–12:30 Meditation 17:00-18:00 Detox Talk
12:30 Herbs
Price 7 Day Detox Programm:
Per Person 1.365,- €
Two People In The Same Room 2.450,- €
The standart package includes:
Detox & Accomodation
All herbs, shakes, detox broth, herbal teas.
1 Colon Cleanse Daily with Angel of Water (Self Service)
Yoga lessons
Meditations
Pool usage (outdoor)
Turkish Bath, Steam Room, Infrared Sauna
Turbosonic
Biofoton
Tramboline & Inversion table
Detox talks & Dvd
NOT included in price:

8% VAT

International Flights

Transfer from and to airport


Alternative Programms:


Weight Loss Program (Tailor-Made, 14 Days)


After an initial analysis, a detox program is created for you to help you meet your weight loss goals. The program also includes yoga, meditation, massage, a Vitamin C Cocktail, and use of our flotation tank, as well as access to our other services and facilities. On our program women usually lose 4-9 kg and men lose 6-12 kg.


Life Change Program (Tailor-Made, 21 Days)


During the Life Change Program you will spend a full 21 days cleansing while learning healthier habits you can apply to your life after the program. The Life Change Program includes 7-Day Salad Detox, 7-Day Master Detox and 7-Day (Post) Green Detox as well as a doctor consultation at the beginning and end of your program. It also includes massage, colon hydrotherapy, a Vitamin C Cocktail and use of our flotation tank, as well as access to our other services and facilities.
If you are interested to know more about this trip, please contact our IBE Travel Team at

info@ibe-travel.eu
Tel.: + 49 89 25557 5890


We look forward to it!
Your IBE Travel Team