Ottoman cuisine Workshop in Istanbul
[ » Destinations » Istanbul » Istanbul special ]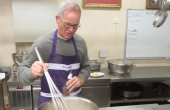 Print
Culture - Fun - Cooking - Wine - Turkish Cousine
In cooperation with Istanbulite -in Aistane


Ottoman Cuisine Workshop

Fancy dining like the sultans used to do? This workshop provides you the opportunity to learn about Ottoman cooking from the experts!


Asitane, which has been presenting genuine food for two decades now, has investigated the secrets of Ottoman dining through the palace archives starting from the 16th century and is going to share some of them with you during the workshop which takes about 2,5 hours.


Depending on the mood of the chef, you can be acoompanied by the Beatles as you stir your Ottoman soup and sip your Efes (Turkish national beer).


Following the workshop, you will sit down to eat what you have cooked and accompany it with local wine.
You can relax in the quaint courtyard of the restaurant in the summer whereas you can warm up indoors during the winter. Either way, this will for sure be one of the experiences that you will remember for years to come!
If you are interested to know more about this trip, please contact our IBE Travel Team at

info@ibe-travel.eu
Tel.:+ 49 89 25557 5890


We look forward to it!
Your IBE Travel Team