7-Day Detox Program in Bodrum
[ » Destinations » Wellness & Spa & Health ]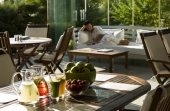 Print
Date:
Individual arrangement
Duration:
7 Days
Price:
1260,- € Per Person, 2.240,- € Two People In The Same Room
Information & Order Form!
Detox - Lossinm Weight - Wellbeing - Wellness - Spa - Relaxation -


In cooperation with The Life Co Bodrum

Wellbeing – Detox - Loosing Weight

The Life Co's founder was so impressed with the benefits of detoxing, he wanted to share it with the world.
After 20 successful years in the fast-paced business world, the 50 year-old founder of The LifeCo was looking for a new way of living when he joined his first detoxification program in 2002. He was so impressed with how much better he looked and felt afterwards - increased energy, loss of excess weight, brighter eyes and skin, better sleep, easier digestion, improved mood and clearer state of mind - that he started to explore alternative health treatments and philosophies around the world by practicing Vipassana meditation, visiting different wellness centers and studying various wellness disciplines.


He also wanted to find a way to incorporate healthier choices into his current lifestyle without having to isolate himself from his family, friends and society.
He realized that he could make noticeable changes in the way he felt and his level of health with minor adjustments to his eating and exercise habits, and his environment. He told his family and his friends, who in turn told their families and friends. By word of mouth this wellness concept gained so much popularity, he decided to form a company to share his experience and resources with other people interested in discovering a healthier way of life.


7-Day Detox Program


Our week-long detox program allows you to completely relax and be purified. In our peaceful, spa environment you will experience the benefits of detoxification and learn methods to support your health once you return home.


The seven day juice fast


The LifeCo detox program is based on a 7-day juice fast. Throughout the day you will drink tasty shakes (juices combined with detox supplements) and take minerals and herbs to complete your nutrition. Although you will be fasting, you will not feel hungry since the shakes contain a bulking agent which signals to your digestive system that you are full. You will also be offered other fresh fruit and vegetable beverages, and may drink herbal teas and a delicious warm soup broth rich in minerals throughout the day.


Daily scheduleOur program follows a consistent schedule every day. On your first day, please join us at the Juice Bar at 08:00 in the morning for an introduction to the program and a site tour.


Morning Afternoon
08:00-20:00 Colema 14:00 Shake
08:00 Shake 14:00-15:30 Yoga
09:30 Herbs 15:30 Herbs
09:30-11:00 Yoga 15:45–17:00 Meditation
11:00 Shake 17:00 Shake
11:30–12:30 Meditation 17:00-18:00 Detox Talk
12:30 Herbs
Price 7 Day Detox Programm:
Per Person 1.645,- €
The standart package includes:
Detox & Accomodation
All herbs, shakes, detox broth, herbal teas.
1 Colon Cleanse Daily with Angel of Water (Self Service)
Yoga lessons
Meditations
Pool usage (outdoor)
Turkish Bath, Steam Room, Infrared Sauna
Turbosonic
Biofoton
Tramboline & Inversion table
Detox talks & Dvd
NOT included in price:

8% VAT

International Flights

Transfer from and to airport

If you are interested to know more about this trip, please contact our IBE Travel Team at

info@ibe-travel.eu
Tel.: + 49 89 25557 5890


We look forward to it!
Your IBE Travel Team