Melengech House in Bodrum
[ » For Rent » Bodrum ]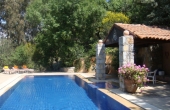 Print
Culture - History - Sport - Nature - Relaxation - Sea & Sun - Healty food


Melengech House is named after a wild pistachio tree which provides the centrepiece of the terrace to this private villa, and its incredibly old and the sprawling branches give a dappled shade over the outside dining table.


Name: Melengech House
Location: Gökçebel
State: Bodrum Peninsula
Nearest Airport: Bodrum/Milas Airport is 45 minutes by car; Dalaman 2 hrs 45 mins.
Sleeps: 4 plus Bedrooms: 2 Bathrooms: 2
Facilities:Private swimming pool. Great for family groups and ideal for couples
Car Hire: Recommended
Price/week: 1.230,- 1.350,- €
Interestingly the resin it produces is an integral ingredient of the local sticky ice cream. Exploring the grounds will keep you constantly surprised and delighted as steps and pathways bring you to hidden sunny seating areas and cool corners to curl up in. A covered loggia with vine clad arches and small fountain provide a shady setting for lunch or alternatively head down to the fabulous pool (6 x 16 metres, constant depth of 1.80 metres) and lunch can be taken in the pool side loggia. For the best sea views the upper garden terrace is ideal. The owner's time spent in the East has ensured a design with good "feng shui" – here you really will live in harmony with the environment.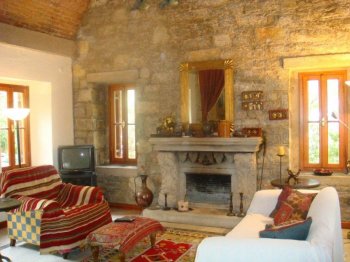 Yoga lovers will appreciate the spaces conducive to practise, relaxation and meditation. This is not a tamed, manicured garden, it is very established, the trees are massive and wherever you venture the vegetation has run riot and serves as a backdrop for an assortment of flowers and fragrant shrubs. The interior of this imposing and substantial stone house is open and spacious, colourful and comfortable. Cool white marble floors provide a background for vibrant rugs and kilims, antique pieces and gilt framed mirrors and pictures. The sitting room has an interesting vaulted barrel ceiling and looks out onto the magnificent Melengech shading the terrace. Upstairs the library provides the perfect quiet corner to study the owner's great selection of books. Whilst being very secluded and extremely private it's only a 10 minute drive to the nearby town of Yalikavak where you will find a great choice of restaurants.
Recommended in The Sunday Times' 'Europe's 100 sexiest summer villas'
.
Recommended airports:
Bodrum/Milas Airport is 45 minutes by car; Dalaman 2 hrs 45 mins.
ADDITIONAL DETAILS GROUND FLOOR:
Entrance to grand hallway, open living areas with sitting room with vaulted ceiling, fireplace and French doors to terrace, dining room with French doors to loggia and terrace, kitchen with pantry. Air conditioned twin bedroom. Bathroom with shower/wc.
FIRST FLOOR:
Very large open plan master double bedroom with Juliet balcony the atrium from the entrance hall divides the bedroom area from the study/library area where there is a single bed suitable for a child. Off the master bedroom there is a further bedroom/dressing room with single bed opening onto a small terrace. Bathroom with bath/hand shower/wc/bidet also opens onto the terrace.
FACILITIES:
Washing machine, hob/oven, dishwasher, fridge, telephone, satellite TV, i-pod docking station. Hairdryer. Partial air conditioning. Barbecue. AIR CONDITIONING is available at an extra charge which is payable locally
PRIVATE SWIMMING POOL:
6 x 16 metres, constant depth of 1.80 metres. Pool towels supplied.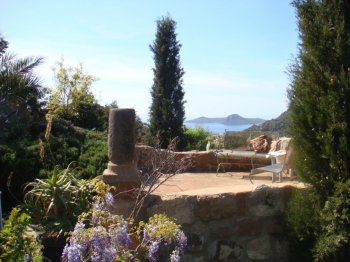 BEACHES:
Nearest beaches - The beaches and coves around Yalikavak and Gundoğan are within a 15 minute drive from the property. The larger sandy beaches on the south side of the Peninsula are all within a 25 minute drive. Gümüşlük with lagoon like swimming and great snorkelling is a 30 minute drive.
SHOPS & RESTAURANTS:
There is a small village shop in the centre of Gökçebel village (5 minute drive down the track) stocked with everyday items including fresh bread, fresh eggs and ice creams; once weekly there is a fruit and vegetable market. The nearest large supermarkets are on the main road to Yalikavak (8 minutes drive) and Yalikavak town also has a weekly fruit and vegetable market. There are many restaurants in Yalikavak town centre. (8 minutes drive).
NOTES:
Car hire is essential. Notes: The owner's cats remain at the property and do come into the house.
FACILITIES
• Air conditioning (payable locally) • Barbeque • Dishwasher • Hairdryer • Hob • Oven • Satellite TV • Telephone
PRICES:
Prices are per week for accommodation rental only and include gas, water, linen, towels and general electricity but not air conditioning. Air conditioning is available at an extra charge which is payable locally. An extra bed is available in the dressing room which can be closed off from the master bedroom and a further extra bed is available in the study/library area of the master bedroom. A small supplement is charged for the use of extra beds.
Please remember that we can provide you with quotations for flights, car hire or transfers.
| | | | | | | |
| --- | --- | --- | --- | --- | --- | --- |
| 02/04/13 | 07/05/13 | 04/06/13 | 02/07/13 | 16/07/13 | 27/08/13 | 01/10/13 |
| 06/05/13 | 03/06/13 | 01/07/13 | 15/07/13 | 26/08/13 | 30/09/13 | 28/10/13 |
| 1.230,- € | 1.160,- € | 1.230,- € | 1.310,- € | 1.350,- € | 1.250,-€ | 1.230,-€ |



If you are interested to know more about this house, please contact our IBE Travel Team at

info@ibe-travel.eu
Tel.: + 49 89 25557 5890


We look forward to it!
Your IBE Travel Team