Horseriding in Cappadocia
[ » Destinations » Cappadocia » Horseriding ]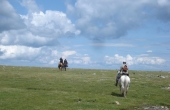 Print
Date:
From March up until end of October
Duration:
Individual arrangements
Price:
Individual arrangements
Information & Order Form!
The term Cappadocia originally comes from the ancient Persian word
"tukha"
or
"dukha"
, which means
"land of the beautiful horses"
.
Riding on a Cappadocian horse through the unique landscape of Cappadocia and discovering, enjoying and admiring the incomparable nature is definitely a breathtaking event!
Scout out the regional sights on the back of a horse and ride trough out the moonlike countryside. Let the magic, traditions and history of Cappadocia enchant you.


Most of the horses are adapted just perfectly to the rough weather conditions and are known for their endurance. For inexperienced horse-back riders we have kind and gentle horses ready.


Horseback excursions for beginners and advanced
Ride outs into the magical countryside of Cappadocia
English speaking guides
Duration of the excursion: 1 hour – 2 hours – 4 hours – whole day (8 hours)
The terms and conditions for this trip depend on the number of participants and the booked duration.
If you are interested to know more about this trip, please contact our IBE Travel Team at

info@ibe-travel.eu
Tel.: + 49 89 25557 5890


We look forward to it!
Your IBE Travel Team