Following Homer's footprints- Ida Mountains
[ » Destinations » Aegean Cost ]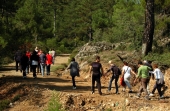 Print
Date:
Individual arrangement
Duration:
Hiking 6 nights, 7 days – Izmir – Ida Mountain – Izmir
Price:
1.110 € per person
Information & Order Form!


Culture – Nature – Hiking


Following Homer's footprints

Hiking Tour: 6 nights, 7 days – Izmir – Ida Mountain – Izmir


Day 1: Arrival in Izmir. You will be picked up at the airport by a travel guide and will be taken to the Hotel Iliada. After a 4 hour car ride (250 km), the first Hotel is waiting for you.


Day 2: Right after breakfast we will embark on a 3 hour hike to the town Armutcuk . The hike takes us through the forests of the region. The inhabitants of this town preserve a piece of Turkish tradition in their wooden shacks. After a short break, we will continue hiking until the afternoon, where we will have a picnic by the riverside. Afterwards we will return to Iliada. On the way back to the hotel, we will have the chance to speak to locals of the region. Dinner at the hotel. Duration of the hike on this first day: 9 to 10 hours.


Day 3: Today, we will hike from North to South along the Ida Mountain stretch. After breakfast, a driver will bring us to the starting point of today's hike. It begins at a chestnut forest at an altitude of about 600 – 700 meters. From there on, we will hike all day through chestnut, pine and beech-tree forests. Around noon, we will reach an inclination of a height of about 1300 meters. There we will seek a spot out with the most beautiful view of the Aegean Sea/ the bay of Edremit, and eat the bread and fruits we brought along. The olive trees at an altitude of 50 – 100 meters will embellish our hike back. On the way back, we will stop for tea at an authentic tea house. The drive back will take us about 45 minutes. This day's hike will take about 7 – 8 hours.


Day 4: On this Sunday, there are no sightseeing points on our agenda. After breakfast you may walk to the bazaar of Kalkim. This is a wonderful opportunity to get to know the different fruits, vegetables and spices of the region. After the bazaar, we could walk through the forest to the Kalkim lake and we could have a picnic there. Afterwards, we could cross Paprika fields and Tobacco farms and then return to the hotel. Around 5:00 pm we will enjoy the sunset on the terrace of the hotel with a cup of tea. With the ingredients we bought at the market, we will prepare a delicious regional dinner. All in all, we will have walked 5 – 6 hours today.


Day 5: After breakfast, we will walk about 2 hours to the town of Karaaydin. There we will observe the daily life of the locals and visit a mosque. Around mid-day we will prepare a chicken on open fire for lunch in one of the gardens of the village. After tea or coffee, we will return to our hotel, this time crossing a forest. Once we arrive at the hotel, we will have enough time to play paintball in the afternoon, to practice archery or to play minigolf. Today's hike will take about 4 – 5 hours.


Day 6: After breakfast we will take a minibus to Assos. There, we will explore the region by foot. . At the ocean, we will look for a spot from where we can see the island of Midili. At this point we will also enjoy an extensive picnic. After lunch, we will walk through olive groves and will drive to Kücükkuyu, to visit the Olive museum. Thereafter we will return to the hotel, where we are invited to an exceptional Gala dinner.


Day 7: After breakfast we will drive to Izmir. On our way we will visit the famous and ancient Pergamon. Finally, you will be taken to the airport.


Group size: Min. 10 – Max. 15 people
Prices: 1.110 € per person
Addition of a single room: 150 €
Children under 9 years don't pay. 10 and over: regular price.


Included in price:
Accommodation at Iliada Hotel (Double Room)
During hikes: sandwiches, fruit, juices and water (picnics)
Transportation from and to airport in Izmir
All transports during hikes
Experienced travel guides
Not included in price:
Alcoholic beverages
Museum fees
If you are interested to know more about this trip, please contact our IBE Travel Team at

info@ibe-travel.eu
Tel.:+ 49 89 25557 5890


We look forward to it!
Your IBE Travel Team