Benefits of Detox – Detox & Renewal
[ » Articles ]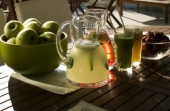 Print
Benefits of Detox – Detox & Renewal


Our body detoxifies naturally, but many health problems arise when we cannot fully process the toxins built up from our modern lifestyle. Discover things you can do to help your body remove wastes, restore and renew itself.
Cleansing wastes is a part of your body's daily maintenance, and is important for rejuvenation and maintaining good health. Simple things you can do every day to boost your body's detox efforts:


Get Sinus Relief with Neti
During winter or allergy season many people have a stuffy or runny nose that can result in facial pain, headaches and coughing. If not treated earlier enough, it can turn into chronic sinusitis. Ear, nose and throat illnesses can result. For effective relief, try an ancient therapy.


Improve Your Fertility with Detox
You've decided to become 3 people instead of 2 and you're well past the age where you still believe the stork delivers babies. You've been trying to get pregnant for months but because of reasons due to you or your husband you haven't gotten results. But before you give up hope and see your doctor about fertilization treatment, stop doubting Mother Nature and your own body's wisdom and take a look at what you can achieve.


Every Season Has a Reason to Detox!
People often ask us when is the best time of year to do a detox program. Actually each season has its own unique characteristics that help our body cleanse and rejuvenate.


Juice Fasting for Weight Loss
Looking for a quick and tasty way to lose weight? Try a juice fast! Fasting regularly is a healthy way to get rid of excess fat and keep it off. It also has numerous health benefits and is a factor for increasing longevity. Grab a glass of your favorite veggies, and enjoy a longer, slimmer life!


Understanding Your Immune System
Keeping us disease-free is the job of our immune system. Organs, tissues and a multitude of different cells target, fight and destroy bacteria, viruses, toxins and more. If anything is not as it should be in our body, it is our immune system which comes to the rescue.


Drink Up to Detox
A good water intake is vital to detoxification - not just a focused program, but for our body's own daily cleansing. Wastes from our diet and metabolism are transported and excreted in water, and not drinking enough starts to clog up our drain.


Detox not Botox
Are you racing against the clock to stay younger? Youth and beauty come not from Botox or surgery, but from a vibrant cleansing and a nourishing diet and lifestyle. Fix your internal wrinkles and watch the outer ones melt away!


Clean It or Lose It
All illness can be traced back to one root cause. By cleansing our body regularly, we can help it perform daily maintenance as efficiently as possible, ensuring it has the resources to fight off disease.


Eat to Detox
The food we eat is the key to health. Everything we consume either enhances our body's cleansing efforts or loads it with toxic chemicals that are difficult to process. If not removed these wastes interfere with and clog up normal body function, reducing energy and causing disease.


Exercise Enhances Detox
We all know that exercise is important for weight loss, but did you realize that it also helps flush toxins? Ways exercise helps our body's natural housekeeping.


Why Should You Detox?
Detoxification is an important element in reaching and maintaining the best possible health. We can help our body in a number of ways.