[ » Destinations » Istanbul » Istanbul special ]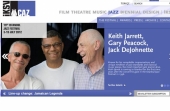 Jazz - Music - Cuture- Fun -Art - Modern Art







"THE STAR MAP OF JAZZ WILL BE ON ISTANBUL SKIES"


THE 19TH ISTANBUL JAZZ FESTIVAL 3–19 JULY 2012


The 19th Istanbul Jazz Festival organised by the Istanbul Foundation for Culture and Arts (İKSV) under the sponsorship of Garanti Bank for the 15th time, will be held between 3-19 July.


The 19th Istanb...
read more »
[ » Destinations » Istanbul » Istanbul special ]
Date:
Between 6th and 18th of october 2012
Duration:
Individual arrangements
Price:
Individual arrangements
Information & Order Form!
Musik - Jazz - Istanbul - Culture -
The city in a jazz state of mind.


The city discovers itself anew as it slips into a jazz state of mind. Because jazz is the city itself. Complicated, remarkable, upbeat, happy, sad, hurried... Each note, each tune reflects another mood of the crowd as it throbs along, intense and isolated. The sound pulls us to its depths, and steal...
read more »