Detox On The Sea With The LifeCo
[ » Destinations » Wellness & Spa & Health ]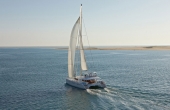 Print

Detox On The Sea With The LifeCo


The LifeCo is a company dedicated to improving the health of its customers through products and services such as detox, therapy, exercises, meditation, yoga, energy work, fasting and education on nutrition and healthy lifestyle. The LifeCo began its wellbeing services in 2004 with Bodrum Detox Center. Now, we operate one raw-food restaurant in London, two wellbeing centers (in Bodrum and Istanbul) and we are the wholesale/retailer of health support products. Started in summer 2012, The LifeCo will be providing this exclusive alternative to the well-being programs available at the detox center in Göltürkbükü, Bodrum, Turkey.


Customers interested a 7-day detox will have the option of taking the world famous Blue Voyage tour on board with our Lagoon 620, catamaran. For 7 days, health seekers will be accommodated, all-inclusive, in the surrounding bays of Bodrum, along with lots of sea and sun.


The bays that will be visited on the Blue Voyage are Gökova and Hisarönü. Tours start on Saturday and end on Friday.

During the programs, coaching, health activities and expert advice on lifestyle and nutrition will be offered. Other activities will include swimming, pedal surfing, snorkeling, canoing, tanning, relaxing and enjoying the sceneries!
The Program provides nourishment through green cleansing shakes, energy soups, herbal teas, alkaline water and more. Special individual adjustments to the program can be done upon request. Minor changes can be made in the programs for an efficient cleansing of the body to promote perfect health. A maximum of 8 guests will have the opportunity of being on the boat at the same time.


Why Detox?


Every day we are bombarded by toxins from many sources. Wastes are a natural by-product of even the healthiest diet and our modern lifestyles expose us to many other impurities. The elimination of these is one of our body's most important tasks and a vital element in reaching and maintaining the best possible health.

Our body is designed to cleanse and heal itself, if you allow it.

These toxins take many forms;


Food and Drink: Processed convenience foods, caffeinated drinks, sugary snacks
Air pollution: Car exhaust, smog, cigarette smoke
Radiation: Computers, televisions and mobile phones
Stress: Inhibits our body's ability to absorb nutrients, rest and repair itself


Our body is wise
It does its best to remove or store body toxins away from our vital organs, but as levels increase, our health suffers. These body toxins interfere with digestion and energy production, compromise our immune system and contribute to many degenerative diseases and even cancers.
Our body removes toxins via six channels


Our liver is our detoxification "control center", processing and directing wastes to different channels for elimination:
Lymphatic system: Removes and transports wastes from our cells
Colon: Excretes solid wastes as feces
Kidneys: Filter and excrete acidic wastes in our urine
Lungs: Filter and purify the air we breathe
Sinuses: Primary channel for mucus removal
Skin: Controls our body temperature and provides backup removal of acids and other wastes if preferred channels become overloaded


Our stomach – the last resort
Sometimes during detoxification our cells release large amounts of acid wastes, by-products of a diet high in meats, dairy products or refined foods. Our stomach acts as an acid dump as the only organ in our body adapted to manage strong acids. Too much acidity, however, can cause the nausea we experience after a heavy meal or during a hangover.


How can we help our body detox?
Detoxification demands a lot from our body and the more we can support it the easier it will be.
A nutritious diet rich in fresh fruit and vegetables provides energy and nutrients and reduce wastes.
Drinking plenty of pure water helps kidneys flush excess acids.

Deeper breathing and increased circulation during exercise boosts oxygen and nutrient supply to our cells.
Sweating opens and cleans pores.

Deep breathing alone helps remove acid wastes via our lungs.
Moving our muscles helps the lymphatic system remove impurities. It also assists the passage of feces through the colon. A sedentary lifestyle impairs waste removal and all aspects of health.

When properly supported, our body can eliminate toxins, rest, restore and move toward improved health with high energy levels, mental clarity and emotional stability. A master cleanse detoxification program once or twice a year will provide the environment and tools for building a healthy, productive and rewarding life.

Program: 4-7 day well being program
Our detox program allows you to completely relax and be purified. On our peaceful blue voyage you will experience the benefits of detoxification and learn methods to support your health once you return home.
First Day
On the first day – Saturday morning – please join us at the Bodrum Well-being center Juice Bar for program introduction and doctor consultation. Also on the first day at the center a colon cleansing session is recommended. During the day you can join yoga&meditation session, do sauna&steam and have a massage. Your individual plan for your first day will be prepared by your program manager. Following the first day introduction at the center you will be transferred to the Catamaran to start the Blue Voyage.


Schedule
In that program you will be having energy soups prepared with dark green leafy vegetables, sprouts, rejuvelac, some fruits, avocado & broccoli. Also you will have the chance to eat tasty raw and gluten free crackers which is prepared without using any flour, sugar or oil.


Our program follows a consistent schedule every day. The normal daily program will be as following. Some minor adaptations can be made upon customer request and depending on the weather conditions too.


08:00 Cayenne Lemonade + Kelp&Nettle (speeds up the metabolism)
09:30 Raw cracker & tea
10:00-11:00 swimming & canoing
12:30 Energy soup, cashew soup,
12:30-14:00 Sailing
14:00-15:30 Pedal Surfing
15:30 Frozen fruit juice
15:30-17:00 Snorkeling
17:00 Tea & raw cracker
17:00-18:00 Well-being talk
18:30 Raw cracker & salad + probiotic (flora grow)
18:30-20:00 Walk on the land
20:00 Documentary Movies
It is highly recommended to participate in physical activities.

You can attend the yoga session in the morning and have a massage in the afternoon if preferred.
At least 1 liter of alkaline water should be consumed per day. Liquid intake is one of the most important aspects of this program.


Please check the 5 minute video at the link below to feel how to be on board ! :
http://www.youtube.com/watch?v=1cE1n_2EIko&feature=share


Prices
Single room Double room Reserving Entire Boat
4 days 1.600 € 3.000 €
-
7 days 2.800 € 5.250 € 20.000 €
What's Included?
Juices & All drinks (tea, soup, water)
Accommodation
First & last day colema(colon cleansing) at the centre
Yoga
Meditation
Sauna & Steam
Extras:
Massages, Turkish hamam first and the last day at the center.


If you are interested to know more about this trip, please contact our IBE Travel Team at

info@ibe-travel.eu
Tel.:+ 49 89 25557 5890


We look forward to it!
Your IBE Travel Team