Express Turkey - 10 Tage
[ » Destinations » Tours of Turkey ]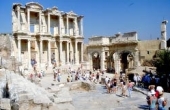 Print
Date : Individual arrangement
Duration : 10 Days
Price : Between 1980,- & 3711,- € per person according to group size
Information & Order Form!
Turkey - Culture - History - Fun - Sun - Relaxation -


EXPRESS TURKEY - 10 DAYS



Day 1: We arrive at Istanbul and take the evening flight to Cappadocia where we meet our guide, and are transferred to our hotel for dinner and overnight.


Day 2: We spend the morning at leisure today. Our guide meets us at the hotel at noon and we have lunch at an old village house, hosted by a local family. We drive further to Soganli valley, which is one of the earliest monastic settlements of Cappadocia. After this, we leave the breathtaking landscape of Cappadocia for a while, and descend to the centre of the earth at either Kaymakli or Derinkuyu Underground City. We drive back to our hotel following a spectacular road through the villages of Cappadocia, where we can observe village life. Dinner, and overnight in Cappadocia.


Day 3: Today we introduce you to the lunar landscape of Cappadocia at Dervent Valley, then we head on to Zelve Open Air Museum, which is one of the earliest inhabited and latest abandoned monastic settlements of Cappadocia. Seeing the best examples of the fairy chimneys at Pasabag Fairy Chimneys Valley, we drive further to Avanos, where we have lunch at a local restaurant. Goreme Open Air Museum is where we visit the rock carved churches and colorful frescoes. We end the day hiking up to the top of Uchisar Castle, which is the highest and the most dominant point, giving us a breathtaking panorama. Dinner, and overnight in Cappadocia.
Day 4: As we check out, we start our long but pleasant and spectacular drive to Pamukkale. We make a visit to the Sultanhan Caravanserai, where the medieval merchants used to stay overnight, then we stop at Konya to visit the world famous Mevlana Museum, formerly the place where the mystic philosophy of Mevlana Celaleddin Rumi was taught. Strolling through the streets of Konya, we will have lunch at a local restaurant before heading on to Pamukkale. Dinner, and overnight in Pamukkale.


Day 5: We start the day visiting Hierapolis, only a stone's throw away from our hotel. After we enjoy ourselves walking on the calcareous terraces of Pamukkale, we start for Kusadasi, giving an en route visit to Aphrodisias, where there was a fertility cult dedicated to Aphrodite. After a well-earned lunch, we drive to Kusadasi, and check-in to our hotel, and have time in the late afternoon hours to see the sun set over the Kusadasi Bay. Dinner, and overnight in Kusadasi.


Day 6: Today we first drive to the Virgin Mary's House; after that we visit Ephesus which was founded in the eleventh century BC by the Ionians. Strolling through the streets of Ephesus, we will witness the perfection of the Graeco-Roman Art. Later in the afternoon we will visit St John's Basilica, believed to be the tomb of the Apostle John, Christ's beloved disciple. From the basilica, we will be able to look down on the remains of the temple of Artemis. We end the day with our visit to the Isa Bey Mosque, then we head on to Kusadasi for rest. Dinner, and overnight in Kusadasi.


Day 7: As we check out, we are transferred to Izmir Adnan Menderes Airport, which is only an hour's drive from Kusadasi, for the flight to Istanbul. Spend the rest of the day at leisure, and have lunch on your own in one of the restaurants, which our guide will recommend. Dinner, and overnight in Istanbul.


Day 8: We start our first morning in Istanbul strolling to the great square which was once the Byzantine Hippodrome. Now it is a great parklike area surrounded by the Blue Mosque, Hagia Sophia, and the Underground Cistern, commonly called the Basilica Cistern. After lunch at a local restaurant, retracing our steps we walk to the Topkapi Palace, more than a palace, it is an assemblage of museums, containing the collections amassed by the Sultans over almost five centuries. After Topkapi Palace, we finish the day with Grand Bazaar visit. Dinner, and overnight in Istanbul.


Day 9: We first walk to the Rustem Pasha Mosque, then we visit the Dolmabahce Palace; overlooking the Bosphorus, it is definitely incomparable with 14 tons of pure gold used for its interior decoration, its priceless paintings, furniture, a rich collection of Bohemian crystal in addition to its famous Harem section. We get on board right after the Dolmabahce Palace, and take the leisurely Bosphorus Cruise from Eminonu, to the still unspoiled village of Sariyer. As we disembark at Eminonu, we can walk to the Spice Market, where Geneose and Venetian goods were sold at a time when there was no Suez Canal, and all the spices from the East were also brought here after being loaded on vessels in Egypt. Dinner and overnight in Istanbul.


Day 10: Leave Turkey.


Group size: Max 16 participants


Price Information:


2 Participants: 3711,- € per person
3 Participants: 3000,- € per person

4 Participants: 2642,- € per person

5-6 Participants: 2430,- € per person
7-9 Participants: 2184,- € per person
10-12 Participants: 2003,- € per person
13-16 Participants: 1980,- € per person
Sing. supp: 403,- €

0-2 Child Reduc. Free, 2-12 Child Reduc.50 and % Student Reduc.10 %
The price include:

Accommodation (HB)
Lunches
Transportation
Guiding
Entrance Fees
Domestic Flight Tickets
Tax
The price exclude:
International flight tickets
Visa fee on arrival to Turkey
Personal travel insurance
Drinks
Non-mandatory but customary tips
If you are interested to know more about this trip, please contact our IBE Travel Team at

info@ibe-travel.eu
Tel.:+49 89 392 90 408


We look forward to it!
Your IBE Travel Team