Ballooning in Cappadocia
[ » Destinations » Cappadocia ]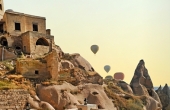 Print
Date : Individual arrangement
Duration : Daily Tour / Bollooning - From March up until end of October
Price : Between 175,- & 250,- € per person
Information & Order Form!
BALLOONING IN CAPPADOCIA
Welcome to the Experience of a Lifetime!


Cappadocia is situated in Central Anatolia in Turkey where its unique environment has the best conditions for safe and quality balloon flights. Due to the microclimate and the extraordinary formations in the landscape, the pilots have the chance to fly extremely low amongst the fascinating topography, sometimes picking the apricots from the tree-tops as they gently float by, and other times dipping deep into the canyons.
Because of the gentle winds and the vertical control, no two flights are ever the same.
Every Flight is a Fantastic Adventure!
The Flight


Since the balloon tours are operated early in the morning, the flight does not interfere with the regular daily sight-seeing program. One day before the flight, we contact our passengers to arrange the exact pick-up time, suggest suitable clothing for the time of year, and give the latest weather information.


Early morning (at dawn), you will be transferred from your hotel to the take-off point by luxury vehicles.
Once at the take-off point, you can watch the equipment preparation and if you want you can help too. It takes about 30 minutes and then the pilot will give you a fully comprehensive pre-flight safety briefing and permission to come on board.


As the balloon is not connected to the ground, no sensation of fear or vertigo is experienced by the passengers and it is not colder in the balloon than it is on the ground.


The flight starts and from the sky you will admire the bizarre Cappadocia's topography, a fantastic and incredible panoramic view with the sunrise coloring the landscape in warm tones of golden.
A unique opportunity for very special photos!
Two Programs Available:


De Luxe Program: EURO 250 per person (EURO 230 if paid in cash).
01 hour and 30 minutes flying
Between 08 to 10 passengers in the basket
Coffee or soft drinks
Champagne toast
Personal flight certificate
Transportation from / to hotel
Full passenger insurance
Sponsored Short Flight Program: EURO 175 per person (EURO 165 if paid in cash).
01 hour flying
Between 10 to 20 passengers
Coffee or soft drinks
Personal flight certificate
Transportation from / to hotel
Full passenger insurance
All flights are operated by Kapadokya Balloons, under the licence 1997/18 by the Turkish Ministry of Transport.
If you are interested to know more about this trip, please contact our IBE Travel Team at

info@ibe-travel.eu
Tel.:+ 49 89 25557 5890


We look forward to it!
Your IBE Travel Team