Istanbul professional
[ » Destinations » Istanbul ]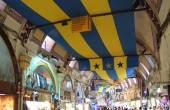 Print
Istanbul trips for professionals


Istanbul Professional


Istanbul for professionals is fully tailored for the modern needs of the business world. You're coming to Istanbul for business and would like to be introduced to Turkish business etiquette, to avoid any major blunder in official meetings with Turkish business men?


You would like to offer your successful sales professionals a special treatment?


Incentive trips, corporate events, business meetings, IBE TRAVEL will plan and coordinate with your company to create not only incentive trips but also corporate events as well as large and small meetings.


Upon request, we can develop training programs for companies, which specialize on team-building or Corporate Social Responsibility (CSR).


We're available to you to create the perfect concept for your trip. Please contact us for further information.
If you are interested to know more about this trip, please contact our IBE Travel Team at

info@ibe-travel.eu
Tel.:+ 49 89 25557 5890


We look forward to it!
Your IBE Travel Team