Our Team – Let's do it your way!


Eda Karaatli Rentsch is founder and CEO of IBE Travel. Eda was born 1973 in Ankara and grew up in Istanbul and Izmir. She is a journalist with a diploma of the university Izmir and received her second degree in 'International Business' at FH Pforzheim in Germany.


Eda has several years of work experience in the area of "Organisational Development", e.g.: at Fujitsu Siemens Computers, and can look back at several stays abroad in UK/USA. In 2004 she founded her first business, the consulting "IBE Consultants" in Munich. IBE Consultants represents german consultancies in Turkey. IBE Consultants has developed and built a consulting expertise in the area of 'International Marketing' within the textile industry in Turkey and was one of the first firms to pioneer in offering not only strategic analyses but also implementation based consulting concepts. This way, Eda has built an excellent professional network. Today she has many business contacts in Germany and Turkey.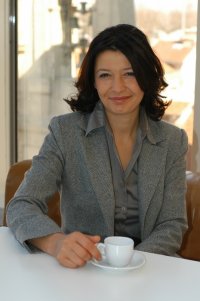 In her leisure time, Eda writes children's books with a thematic focus on multiculturalism and loves great food. Her passion for culinary delights was a trigger for the first organization of a journey through Turkey with approximately 20 participants in 2009.


Since the Nineties Eda has already organized multiple trips to Turkey on a private level. Eda's interest in travelling, her organizational abilities and her sound Turkish-German business know how are the platform to make further travel enthusiast very happy. The online launch of the IBE Travel hompage in January 2012 was the first crucial milestone on the way reaching the goal to inspire more people to explore this incredible country.


Anna Maria Wacker joined IBE Travel in 2011 as interim Marketing/Kommunikationsmanager. Anna is responsible for Online Content Management and contact for agencies and potential sales/marketing partners. She studied 'International Cultural & Business Studies' in Passau and enjoys the exchange with different cultures. During her studies, she stayed multiple times abroad, e.g.: USA, France, UK, Spain and India and has a tripple degree in Management with a mayor in strategy at Ludwig Maximilians Universität (EM Lyon and Aston Business School). She has already worked for IBE Travel during her studies. After completion of her graduate studies she decided to join IBE during the exciting initial business phase and to be become even more involved in day to day activities taking the chance to make first startup experience in the online business.
Team Unser Our team is made up of many freelancers as well as respective travel agency partners in Turkey (e.g.: Argeus). Mehmet Nuri Özden a native Cappadocian and he knows all the back roads/trails of Cappadocia like the back of his hand. He is a professional tourist guide, licensed by the Ministry of Tourism and Culture, and has been guiding/leading mountain bike tours since 2000. He has been working at Argeus since 1994.
Kadir is from Adana and has been living in Cappadocia for 5 years. He is the mechanic of Turkish National Cycling Team and is a great help for the MTB tours. He drives the supporting vehicle on our tours and we call him "bike doctor". He is the best bike mechanic in Turkey. He is also a mountain bike racer, with several madals.
Our Team