IKSV Jazz Festival 2013
[ » Destinations » Istanbul » Istanbul special ]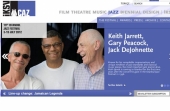 Print
Jazz - Music - Cuture- Fun -Art - Modern Art







"THE STAR MAP OF JAZZ WILL BE ON ISTANBUL SKIES"


THE 19TH ISTANBUL JAZZ FESTIVAL 3–19 JULY 2012


The 19th Istanbul Jazz Festival organised by the Istanbul Foundation for Culture and Arts (İKSV) under the sponsorship of Garanti Bank for the 15th time, will be held between 3-19 July.


The 19th Istanbul Jazz Festival will again bring the star map of jazz to Istanbul in July with 50 concerts and more than 300 local and international artists. The Istanbul Jazz Festival concerts will be held at the classical venues of the festival such as Cemil Topuzlu Open-Air Theatre, Istanbul Archaeology Museum, Istanbul Modern, Salon İKSV and The Marmara Esma Sultan, as well as one of the last year's favourite venues Bilgi University santralistanbul Kıyı Amfi. Haliç Congress Center and Sabancı University Sakıp Sabancı Museum will be used for the first time as the festival venues. The festival will expand to the city with more than 20 different venues.


The 19th Istanbul Jazz Festival programme was announced at a press meeting held at SALT Galata. İKSV Chairman Bülent Eczacıbaşı made the opening speech of the press meeting: "The festival in its 19th year has undertaken a mission extending beyond hosting significant representatives of the contemporary music from all over the world in Istanbul. The festival brings artists from different traditions and different countries together at concerts in which they will perform original products, and it also supports improvement of young jazz musicians. The festival also organises concerts, which will help us discover new horizons of jazz, and events, which will carry excitement of the music to the streets (...) Celebrated Marcus Miller, known by the followers of the Istanbul Jazz Festival, prepared a new work called 'The Istanbul Project' at the 40th anniversary of İKSV with expert musicians from Turkey for the Istanbul Jazz Festival. We hope that the performance, which will meet with the audience for the first time in the festival, will be performed in many other countries. We believe that it will be a significant step for our foundation's aim to contribute to world culture and art."


After the opening speech of Eczacıbaşı, President and CEO Ergun Özen made a speech on behalf of Garanti Bank, the festival sponsor for the 15th time this year. Özen stated: "İKSV, celebrating its 40th anniversary this year, has made art and culture irreplaceable for whole Istanbul and Turkey with all the festivals and events organised. İKSV organised significant events that have made our city a world-wide culture and art centre. We have worked on many projects together so far and we are happy to reach the 15th anniversary of our cooperation with İKSV on the Istanbul Jazz Festival. It is another source of pride for us to hold this meeting at SALT Galata, our centre for culture (...) The festival, on-going for 19 years, enabled the foundation of a jazz culture in Turkey. As Garanti Bank, we have been supporting improving of jazz music in Turkey for years with our motto 'Garanti Jazz Green'. Within this framework, our cooperation with İKSV has been strengthening more and more for 15 years."
Pelin Opcin, Director of the Istanbul Jazz Festival provided more information with regard to the festival programme later on.


The 19th Istanbul Jazz Festival will begin with the Opening Ceremony to be held on Tuesday, 3 July at The Marmara Esma Sultan. Tickets for the Istanbul Jazz Festival will be on sale as on Saturday, 28 April through Biletix sales channels and at İKSV (Nejat Eczacıbaşı Binası Sadi Konuralp Cad. No: 5 Şişhane - Istanbul).


NEŞET RUACAN RECEIVES THE LIFETIME ACHIEVEMENT AWARD OF THE FESTIVAL


Neşet Ruacan, a significant musician with guitar technique and mastership, who worked for improvement of the Turkish jazz, will be presented with the Lifetime Achievement Award of the Istanbul Jazz Festival this year.
Neşet Ruacan, who was born in Istanbul in 1948, started his music career with classic guitar training at the age of 10. Starting to play electric guitar in 1960's, Ruacan realised his interest in jazz guitar and went to England and the United States for taking theoretical jazz classes. After his education in significant colleges like Leeds College of Music, Berklee College of Music and Brooklyn School of Music, Ruacan was a part of hundreds of studio records as a jazz musician and studio guitarist with world-known jazz artists. Ruacan was retired this year from TRT Istanbul Radio Jazz Orchestra, to which he joined in 1985 and was conductor since 1996. Neşet Ruacan has great contributions to jazz in Turkey both with his concerts and his conducting of TRT Light Music and Jazz Orchestra.
Neşet Ruacan will be presented with the award during the Opening Ceremony to be held on Tuesday, 3 July at The Marmara Esma Sultan.


THE FESTIVAL PROGRAMME


KEITH JARRETT, GARY PEACOCK, JACK DeJOHNETTE
18.07.2012 Wednesday, 20.00
Haliç Congress Center


Known for his remarkable improvisations and unique rendition of jazz standards and classical music pieces, the most important jazz pianist alive, American composer and musician Keith Jarrett is coming to Istanbul for the first time, years after the concert he gave in the Istanbul Jazz Festival in 1996. And what's even more, he will be accompanied by the legendary crew of 96'. Among the most important musicians of the jazz world, Gary Peacock is on the acoustic bass and Jack DeJohnette is on the drums in this trio performing jazz standards as well as their original compositions since 1983. In the past 25 years, the trio has been nominated for many international awards, including five American Grammy nominations. The trio was voted "Best Acoustic Jazz Group" in the Downbeat Reader's Polls (1998. 1999, 2011), and Downbeat Critic's Poll (2008), and the Jazz Times Reader's Poll (2009).


TÜNEL FEAST
07.07.2012 Saturday, 18.00 – 24.00
Tünel, Galata, and Şişhane


For the third time this year, the Tünel Feast presents a festival within the festival! With its numerous concerts, events and workshops held in different concert venues and open-air stages, Tünel Feast will take in every corner of Tünel with a jazz marathon on Saturday, 7 July.
Beginning on Saturday, 7 July, at 18.00 with the co-sponsorship of Coca-Cola and Vodafone Freezone and the collaboration of the Beyoğlu Municipality, the feast will continue in the streets and various venues of Beyoğlu and Galata areas with paid and free-of-charge concerts, workshops, special exhibitions and treats until late in the evening. The detailed programme of the Tünel Feast can be followed on the map of venues close to each other in the area.


While with the free-of-charge concerts on two main stages to be established in Galata and Tünel a festival atmosphere will be enjoyed in the whole area, the audience will shuttle back and forth between various venues and stages and participate in different events throughout the night. Among the artists who will take stage in the colourful venues of the Tünel area such as Salon, Nardis, SALT Beyoğlu, Alt, the Grand Pera Ball Room at the Pera Palace Hotel, Beyoğlu Municipal Youth Center throughout the night, there are names such as Phronesis, Jo Stance, Jülide Özçelik, Gevende and Daniel Zamir. The feast will also feature Eric Vloeimans, New Cool Collective, Lefties Soul Connection, Jungle By Night, and Ntjam Rosie, who visit Istanbul on the occasion of the celebrations of the 400th anniversary of diplomatic relations between Turkey and the Netherlands. The Netherlands Consulate General's Garden will be one of the most special venues of the festival.


"A STRANGE PLACE FOR JAZZ"
BUGGE 'N FRIENDS / NINETY MILES / MAGNUS ÖSTRÖM
14.07.2012 Saturday, 20.00
Sabancı University Sakıp Sabancı Museum


In its second year, "A Strange Place For Jazz" continues to bring together ensembles that present new horizons to jazz, in distinctive venues with their unusual architectural characteristics. This year, " A Strange Place for Jazz" will be held on Saturday, 14 July at the Sabancı University Sakıp Sabancı Museum in Emirgan at 20.00 under the sponsorship of Volvo Car Turkey. The first guest of the event will be former E.S.T. percussionist Magnus Öström's new band. Afterwards, the night will continue with Ninety Miles featuring Stefon Harris, David Sanchez and Nicholas Payton. And the final performance of the night will present Norway's electronic and jazz genius Bugge Wesseltoft and his "friends" Erik Truffaz, İlhan Erşahin and Joaquin "Joe" Claussell.


THE ISTANBUL PROJECT:
MARCUS MILLER & FRIENDS feat. BURHAN ÖCAL, OKAY TEMİZ,
HÜSNÜ ŞENLENDİRİCİ, İMER DEMİRER, BİLAL KARAMAN
CELEBRATING 40 YEARS OF İKSV
05.07.2012 Thursday, 21.00
Cemil Topuzlu Open Air Theatre


A familiar face for the festival goers, internationally acclaimed musician Marcus Miller will visit Istanbul for a very special project this time, on the occasion of the 40th anniversary of the Istanbul Foundation for Culture and Arts. Bringing together esteemed Turkish musicians with world stars, this concert is the first of a series of world premiers which the festival will continue in the following years. "The Istanbul Project" will be held on Thursday, 5 July at Cemil Topuzlu Open Air Theatre at 21.00.
In "The Istanbul Project", Marcus Miller will be accompanied by one of the leading Hüsnü Şenlendirici, master percussionists Burhan Öcal and Okay Temiz, Turkey's prominent jazz trumpeter İmer Demirer, and guitar virtuoso Bilal Karaman. Other members of the team are Louis Cato (drums) and Alex Han (saxophone), and Federico Gonzalez Peña (keyboards).


ANTONY AND THE JOHNSONS and FILARMONIA ISTANBUL
"CUT THE WORLD"
09.07.2012 Monday, 21.00
Cemil Topuzlu Open Air Theatre


Enchanting, melancholic, and sublime… One of the most important voices of contemporary music, multi-faceted artist Antony Hegarty visits Istanbul for a special project. The festival audience has never forgotten the concert of Antony and the Johnsons, which charmed them in the historical Şan Theatre at the Istanbul Jazz Festival in 2007. This time, the group will meet Istanbulites at the Open Air Theatre for a special performance, "Cut the World", accompanied with Filarmonia Istanbul, an ensemble of 39 musicians, led by conductor Anthony Weeden.
Antony emerged with his musical ensemble Antony and the Johnsons in 1998. In 2005 Antony and the Johnsons won the UK's Mercury Prize for the album I am a Bird Now. In 2010, The Sun gave Swanlights 5 out of 5 stars and called Antony "one of the greatest living vocalists." Antony has also collaborated with a wide-ranging group of artists and musicians including Björk, Boy George, Yoko Ono, Laurie Anderson, CocoRosie, and Lou Reed. Antony and the Johnsons' "Cut the World" includes songs from all four albums (self-titled, I am a Bird Now, The Crying Light, and Swanlights), set to symphonic arrangements by Nico Muhly, Rob Moose, and Maxim Moston.


ERYKAH BADU
13.07.2012 Friday, 21.00
Cemil Topuzlu Open Air Theatre


Four-time Grammy award winning American soul singer and songwriter, Erykah Badu is set for her first ever Istanbul concert at the festival on Friday, 13 July at Cemil Topuzlu Open Air Theatre at 21.00 under the sponsorship of Matraş. Regarded as the "Queen of Neo-Soul", Badu's sound -- a concoction of soul, hip-hop and jazz -- cannot be contained to a single genre.


Baduizm, Badu's highly acclaimed debut album, was released in early 1997 went triple platinum and, along with "On & On", won Grammy Awards at the 1998 ceremony. Spring of 2010, Badu released her fifth studio album, and second instalment of a two-part New Amerykah series. New Amerykah, Part 1: Fourth World War, a concept album that was digitally produced and political in tone, debuted at
No. 2 on the Billboard 200 chart and Rolling Stone named it one of the year's best albums.
New Amerykah, Part II: Return of the Ahnk, which features lush live instrumentation and taps into Badu's emotional side by thematically, focusing on romance and relationships, made its debut at No. 5 on the Billboard 200 chart.
With her eccentric style and cerebral music, her deep, authentic and colourful voice and her remarkable performance, the first Istanbul concert of Erykah Badu will surely be phenomenal.


ESPERANZA SPALDING RADIO MUSIC SOCIETY / LYAMBIKO
16.07.2012 Monday, 21.00
Cemil Topuzlu Open Air Theatre


A perfect night of jazz at the Open Air Theatre! Beginning with Lyambiko, a silky voice singing jazz standards and original compositions, the night will continue with the young genius of bass, vocalist and composer Esperanza Spalding.
Hailed as "the most promising vocalist jazz has seen in a long, long time" in the Boston Globe in 2003, Lyambiko was awarded the Echo Jazz 2011 Award as "Female singer of the year - national". Continuing the night's delight will be Esperanza Spalding, one of the biggest breakout stars of 2011, who received the 2011 Grammy for Best New Artist, the first time a jazz musician had won the award.
Lyambiko will be accompanied by Marque Lowenthal (piano), Robin Draganic (bass), and Heinrich Koebberling (drums) while Spalding will be performing with her 12-piece band.


MORRISSEY
19.07.2012 Thursday, 21.00
Cemil Topuzlu Open Air Theatre


The marvellous closing of the festival comes from Morrissey, one of the iconic figures of the British alternative music, the lead singer and founder of the influential band The Smiths and the composer of sensitive and political lyrics. His solo career is marked by critically acclaimed albums including Vauxhall & I, You Are The Quarry, Ringleader Of The Tormentors, Years Of Refusal, and hits such as "Everyday Is Like Sunday," "The More You Ignore Me, The Closer I Get," "Let Me Kiss You," "First Of The Gang" and "You Have Killed Me".
The night will open with the performance of young singer and songwriter Kristeen Young.


CARO EMERALD
10.07.2012 Tuesday, 21.00
santralistanbul Kıyı Amfi


With her lyrical tales of romance and deception over a blend of samba, jazz, bossa nova, mambo and crackling vinyl, the Netherlands' Caro Emerald has seduced fans wherever she has played. Inspired by films and music from the 40's and 50's the debut album of Emerald, Deleted Scenes From the Cutting Room Floor, is an exciting collection that sold over one million copies. This album also featured hit singles "Back it Up", which stayed at the top of Netherlands' music lists for 30 weeks, and "A Night Like This". Live on stage, Caro performs with an 8 piece band filled with sharp dressed lads. At this remarkable performance, the audience will see that it is impossible not to dance when Caro Emerald is on stage!


SHARON JONES & THE DAP-KINGS
17.07.2012 Tuesday, 21.00
santralistanbul Kıyı Amfi


Sharon Jones, a legendary name of soul and funk who builds upon the legacy of James Brown, prepares to get Istanbul into the groove with The Dap-Kings.
Established in 2002, Sharon Jones & the Dap-Kings brings together powerful vocalist Sharon Jones and the Dap-Kings, formed by former members of 80s' famous soul ensembles Soul Providers and the Mighty Imperials. Their devotion to soul music is clearly demonstrated on the band's critically acclaimed albums including their newest release I Learned the Hard Way. They also drew attention with "This Land is Your Land", a song they covered for the soundtrack of Academy Award and Golden Globe winning Up in the Air.
Sharon Jones & the Dap-Kings have relentlessly toured around the world, performing at numerous festivals. Most recently, the band has been invited by fellow soul enthusiast, Prince, to open for him at his shows. Now, with their incredible live show, they are getting ready to set the Istanbul audience in motion.


JAMAICAN LEGENDS with ERNEST RANGLIN, MONTY ALEXANDER,
SLY & ROBBIE feat. BITTY MCLEAN
04.07.2012 Wednesday, 21.00
The Marmara Esma Sultan


You are invited to a special project bringing together the prominent musicians of Jamaica on the occasion of the 50th anniversary of the country's independence on Wednesday, 4 July at The Marmara Esma Sultan at 21.00, under the sponsorship of DHL.
The Jamaican Legends feature: virtuoso guitarist Ernest Ranglin, who helped shape the sound of ska as it emerged in the 1950s and who draws large crowds on the touring circuit and remains a highlight of numerous European festivals throughout year ; pianist Monty Alexander, who has built a reputation exploring the worlds of American jazz, popular song, and the music of his native Jamaica in a career spanning five decades ; and Sly&Robbie, the prolific Jamaican rhythm section and production team of drummer Sly Dunbar and bassist Robbie Shakespeare who are estimated to have played on or produced 200,000 recordings. They will be accompanied with Jamaican English reggae artist Bitty McLean.


TILL BRÖNNER
06.07.2012 Friday, 21.00
Istanbul Archaeological Museum


The best selling jazz artist in Germany, one of the finest trumpeters of his generation, Till Brönner won the prestigious Echo Award of Germany five times along with his two Grammy nominations.
Releasing his first album Generations of Jazz when he was just 22 years old, Till Brönner has released numerous albums and soundtracks, and received many awards during his career spanning 20 years. Known for his musicianship as well as his voice and his impressive stage performance, Till Brönner became the top-selling jazz artist of all times in Germany with his album released in 2004, reaching number 16 in German pop music charts. Brönner also played with numerous leading jazz musicians such as Dave Brubeck, James Moody, Natalie Cole and Tony Bennett.


GRETCHEN PARLATO / AMBROSE AKINMUSIRE
11.07.2012 Wednesday, 20.45
Istanbul Archaeological Museum


Two young stars shining bright… Having released her second album When The Heart Emerges Glistening from the famous Blue Note label, Ambrose Akinmusire is considered as one of the most successful trumpeters of recent years. Singer-songwriter Gretchen Parlo's album In a Dream has been labelled as the "most enchanting jazz album" of 2009. Now these two young stars perform one after another in a magical night of jazz at the 19th Istanbul Jazz Festival on Wednesday, 11 July at Istanbul Archaeological Museum at 20.45, under the sponsorship of Passion Travel. The concert is realised as part of the "Talent Opportunity Program" of International Jazz Festivals Organisation (IJFO), and is an unmatchable opportunity for getting to know these two important talents.


LARS DANIELSSON "LIBERETTO"
12.07.2012 Thursday, 21.00
Istanbul Archaeological Museum


One of the most important figures of the Nordic Jazz, Lars Danielsson is among the guests of this year's festival. Danielsson has released numerous critically acclaimed compositions and albums with his band 'Lars Danielsson Quartet,' accompanying him for the last 18 years. Along with his own band, Danielsson also worked with musicians such as Randy and Michael Brecker, John Scofield, Jack DeJohnette, Mike Stern, Billy Hart, Charles Lloyd, Terri Lyne Carrington and Dave Kikosk. He is currently working with famous percussionist Trilok Gurtu and added the album Liberetto to his repertoire in 2012, following the release of important albums such as Libera me, Melange Bleu.
Danielsson successfully fuses different sounds of various cultures and musicians into a fascinating whole in his album Liberetto which also makes use of sounds of Anatolia. Bringing together a strong lyricism together with breathtaking virtuosity, Lars Danielsson will be accompanied by the French pianist Yaron Herman and Magnus Öström in his Istanbul concert held after the release of his new album Liberetto.


"ENCOUNTERS WITH MASTERS"
DHAFER YOUSSEF'S 'DANCE OF THE INVISIBLE DERVISHES'
FEAT. HÜSNÜ ŞENLENDİRİCİ & AYTAÇ DOĞAN
19.07.2012 Thursday, 21.00
Istanbul Archaeological Museum


"Encounters with Masters" continues to bring together master jazz musicians for new and original performances. This year, singer and oud player Dhafer Youssef, who is now considered a pillar of the Tunisian underground music, comes together with Turkey's clarinet master Hüsnü Şenlendirici and world-renowned kanun player Aytaç Doğan. The other musicians that will be performing with these three masters will be pianist Kristjan Randalu, guitarist Eivind Aarset, bass virtuoso Chris Jennings, and one of the best percussionists of the world Marilyn Mazur.
Dhafer Youssef regards the "Dance of the Invisible Dervishes" as "a love declaration to Istanbul".


"NEW FOLKS" THE DEARS
12.07.2012 Thursday, 21.00
İstanbul Modern


The Dears will be in Istanbul for their first ever concert here, as part of the Festival's New Folks series. The lifework of vocalist and songwriter Murray A. Lightburn, The Dears have brought together indie rock and pop together in highly acclaimed hits such as "Omega Dog," "You And I Are A Gang Of Losers," and "Hate Then Love", and won the hearts of a faithful audience. The Dears' second album, 2003's No Cities Left, swept the group from Montreal notoriety to international rapture. The NME hailed The Dears as "Probably the best new band in the world." They have toured the world with Sloan, The Tragically Hip, Keane, The Secret Machines and Morrissey. They were nominated for the 2007 Polaris Music Prize with Gang of Losers and were featured in the Polaris Music 2011 list with last year's Degeneration Street.
The Dears are Murray Lightburn in vocals and guitars, Natalia Yanchak in keyboards and vocals, Robert Benvie in guitars, keyboards, and vocals, Patrick Krief in guitars and vocals, Roberto Arquilla in bass guitar and vocals, and Jeff Luciani in drums and percussion.


"EUROPEAN JAZZ CLUB" at Salon İKSV


In European Jazz Club concerts, prominent names of Turkish jazz scene perform together with European jazz masters.
Tamer Temel Quintet feat. Matthias Pichler on Wednesday, 4 July; Baki Duyarlar Quartet feat. Eric Vloeimans on Monday, 9 July; Oğuz Büyükberber feat. Simon Nabatov, Wolter Wierbos & Tobias Klein on Tuesday, 10 July; Bilal Karaman feat. Lars Danielsson on Wednesday, 11 July; Ayşe Gencer Band feat. Dimitri Baevsky on Tuesday, 17 July; Yahya Dai Quartet feat. Maciej Fortuna on Wednesday, 18 July will be held under scope of the European Jazz Club. The concerts will start at 22.30.


''YOUNG JAZZ'' CONCERTS


The "Young Jazz" Concert Series which forms a platform enabling young jazz musicians and ensembles to take part in the programme of the Istanbul Jazz Festival for the last nine years continues this year, as well. The Young Jazz concerts organised for the tenth time this year can be attended free of charge within the scope of the Tünel Feast which will take place on Saturday, 7 July.
The bands to participate in the "Young Jazz" Concert Series will be determined with an audition concert at Salon İKSV. All jazz-lovers are welcome to attend the Young Jazz Audition Concert which will be held free of charge on Sunday, 27 May, at 13.00. The committee selecting the bands to participate in the Young Jazz concerts within the scope of the festival is made up of Hülya Tunçağ, Kerem Görsev, Önder Focan, Pelin Opcin, Sevin Okyay, Elif Çağlar and Ferit Odman.
Over 100 jazz artists or ensembles have applied to the "Young Jazz" Concert Series in 9 years and the opportunity to participate in the same festival with world famous jazz artists has been provided for over 30 young jazz ensembles.


FESTIVAL'S PARALLEL CONCERTS AT NARDIS JAZZ CLUB


Istanbul's popular jazz club Nardis Jazz Club takes part in the festival excitement with the parallel concerts organised during the festival, featuring eminent musicians of the Istanbul jazz scene.


ISTANBUL JAZZ FESTIVAL TICKETS WILL BE ON SALE
ON SATURDAY, 28 APRIL
Tickets for the 19th Istanbul Jazz Festival will be on sale on Saturday, 28 April at 10.00.
Festival tickets can be purchased through:
BİLETİX sales channels,
BİLETİX call centre (0216 556 98 00)
www.biletix.com and
İKSV (Nejat Eczacıbaşı Binası, Sadi Konuralp Cad. No: 5 Şişhane-Istanbul).
Ticket prices for the 19th Istanbul Jazz Festival changes between 20 TL and 350 TL. Credit cards can be used for ticket purchase.


If you are interested to know more about this trip, please contact our IBE Travel Team at

info@ibe-travel.eu
Tel.:+49 89 392 90 408


We look forward to it!
Your IBE Travel Team